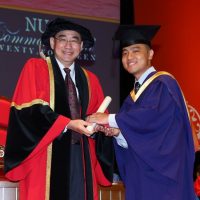 Commencement 2014
Undergrad Research
I graduated with a Merit Diploma in Biotechnology from Temasek Polytechnic, Sinapore in 2006 where my two main research areas were on the adsorption properties of Escherichia coli J-proteins and the growth and adhesion properties of Acidovorax temperans. After a stint in the armed forces, I enrolled in the National University of Singapore (NUS) and graduated with a B.Sc. (1st Class Hons) in Life Sciences (Environmental Biology) (and a 2nd major in Business Management) in 2014.
During my four years in NUS, I rediscovered my childhood love of the great outdoors and joined the Experimental Marine Ecology Laboratory (EMEL). Here I researched the shell patterns of button snails (Umbonium vestiarium) and published my first paper on them in May 2016.
PhD
From 2014 to 2018, I was a PhD Candidate and President of the department's Graduate Society in the National University of Singapore supervised byProf Peter Todd (EMEL) and Prof Martin Stevens (at the University of Exeter in the UK). Building upon my experience with animal colour patterns, I wrote a computer program called PAT-GEOM and used it to study crabs, sea cucumbers and sea slugs!
On the side, I also play a big role in the SCUBA-based and intertidal fieldwork in the lab on topics such as coral-macroalgal interactions, herbivory on coral reefs and ecological engineering on seawalls.

Left: A sea apple (purple) and sea anemone (brown) on a bed of seagrass in Singapore. Right: A furrowed crab on a rock in Cornwall, England.
Postdoctoral Research
Having obtained my PhD in March 2019, I am currently a Research Fellow working with Prof Antonia Monteiro at the Monteiro Lab in the National University of Singapore.
My research focuses on the colour patterns of butterflies and how their beautiful colours are produced. At the same time, I am also making a foray into the related (but shockingly different) area of Grant Manager for a multi-million dollar grant!!